Animation of 2D objects is necessary for today's market, we are surrounded by it and you will eventually have to join in too. We will try to make it easier for you by introducing some useful free 2D Character Rigging & animation plugins for Adobe After Effects, sharing some Free 2D Rigged Characters and a few 2D Animations, and of course giving some examples of the best 2D portfolios. We also picked some easily understandable tutorial videos for Rigging in After Effects, to make this experience easier for you!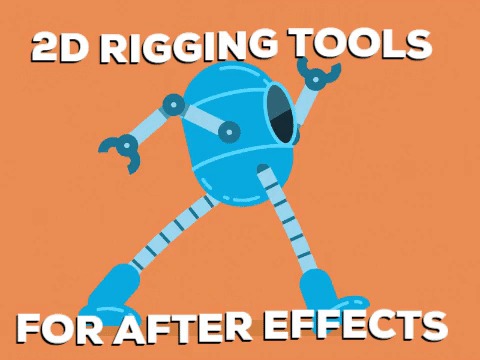 You can see examples of 2D animation everywhere (including this article, just a bit down below, also on our logo animation page), so it is due time for you to try creating some, if you are in the business with us!
From the dawn of animation, everyone understood that it is a difficult and complicated process, and many have tried to make it easier and more accessible. Unfortunately, it all had a price, and professional rigging & animation were special tasks that only very experienced editors could complete. However, it all changed in 2009, when Duik was released.
Never before have we had a FREE rigging program of the same quality and high caliber as this masterpiece, made and published by Rainbox. Animation became closer to us all, and that is thanks to Duik, an innovative addition your Adobe After Effects.
There are many reasons why Duik rose above the other similar software, and here we will discuss most of them.
It is completely FREE
Duik has always been, and always will be, absolutely FREE! It offers the option of donation, for those who want to financially help it improve.
It has a User Guide included
The creators of Duik are aware that Rigging is a complicated job, so they included a comprehensive user guide, that will help you understand the basics, but also the advanced options that this Animation plug-in offers.
Frequent Updates & A Tradition
Tradition that Duik possesses is very clear, and as it was downloaded over 300 000 times over the last 8 years, we can also say it has proved it's worth to many people who still use it to this day. Duik frequently gets updates, so any bugs and mistakes are fixed almost instantly, so you must never worry about losing your progress or getting a crash.
Development Kit – You can improve it or make it fit your needs
If you are a developer, you are very welcome to make changes as the Development Kit is always open! You can improve the software, or adjust it to your preferences.
Bones & Stretchy IK
Limb control has never been this easy, and the new puppetting system introduced by Duik is simple and useful.
Autorigging & Dynamic Automations
For beginners, there is Autorig, and once rigging is done, you can apply dynamic automations to breathe life into your characters.
Finally, to get you started you need to see some examples, and also a good tutorial. Here is a great one that will help you get used to Duik:
Free 2D Vector Characters Ready For Rigging In After Effects
For rigging, you will need an illustration or a vector to rig. It is usually the best to work with a simple character at first, as described in the tutorial above. However, once you want your 2D animation to look more professional, you will have to use colorful and character with more details. Here are some of our recommendations, taken from Freepik.com!
Awesome 2D Character Animations Created In After Effects
Get ready to watch some amazing 2D animations, that will inspire you to make or get one for yourself! We collected a few epic short animations that look very realistic and natural, and they were all made in After Effects only! That means that with enough practice, you can become capable of creating one just like this!
JUNGLE BRAWL – Episode 2 by LeeDanielsART
A SHORT EPIC by LeeDanielsART
The Shallows – Honestly (Official Video) from SUPER MEGA ACTION PLUS on Vimeo.
Rigging in After Effects – Tutorials
There are many available explanations and tutorials on the internet, but you have to start somewhere, and we recommend that start to be right here:
This basic tutorial will surely help you advance your rigging skills. It requires no knowledge of rigging, just some experience in Adobe After Effects. In case you are a beginner in Adobe After Effects as well, we can recommend picking up some workbooks to start you off: read our article about the Adobe Creative Cloud Suite Workbooks, that also includes After Effects, a program essential to Rigging and 2D Animation.
And above is another simple, useful tutorial, to help you start your journey through the world of rigging!
Most Successful 2D Character Animators
Sometimes, all we need is a little bit of inspiration in order to get going. There are many artists out there that inspire us in our animation work: Let these portfolios inspire you today and take you through some of the most beautiful 2D animations. You can start today!
Bonus: 2D Character Animation GIF Loops For Your Inspiration
We believe the best way to inspire you, but also show you the importance of rigging, is to show you some beautiful examples. Below you can find some beautiful examples of simple characters being animated to the imagination of the creator. Take a look at how the professionals animated these GIFs!
This beautiful GIF that depicts a native riding an imaginary animal was created by lilypadula.com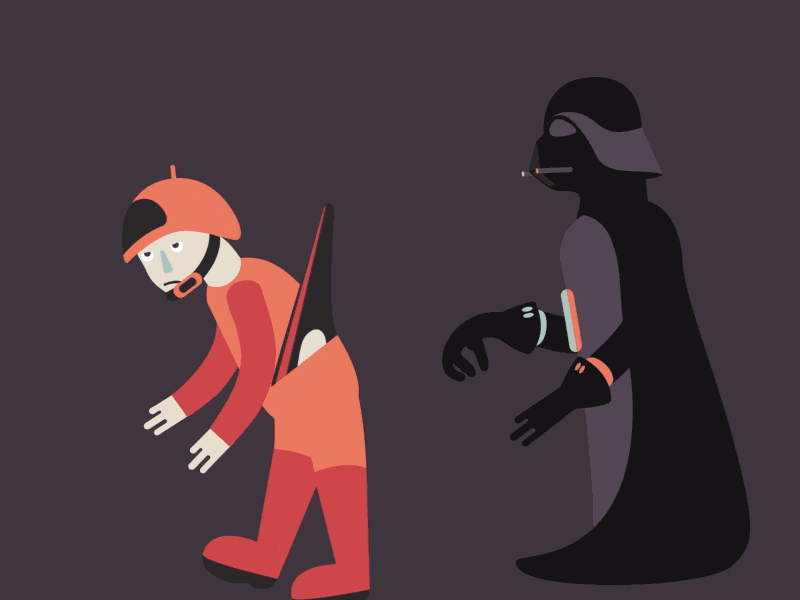 A wonderful GIF featuring Darth Vader, created by waketheforceup.com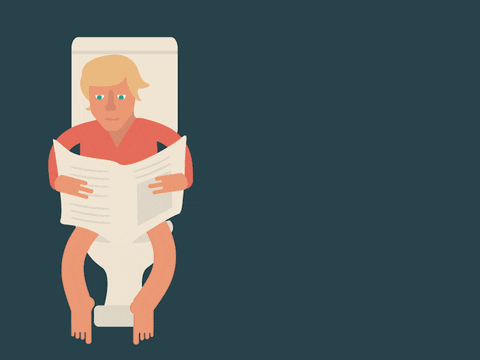 A simple GIF featuring a man on the toilet and a very unlikely appearance of another man,made by waketheforceup.com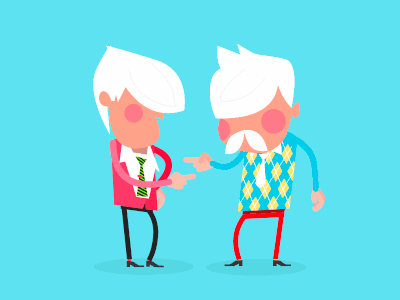 Two elderly men doing a cool modern handshake, by www.awn.com/forum/thread/1025326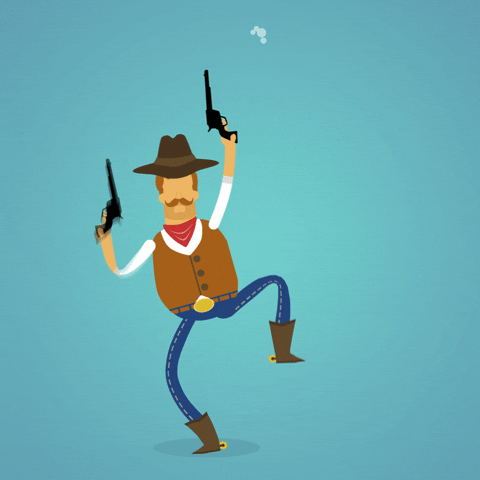 A cowboy GIF created by reelcake.com/2015/11/05/short-2d-character-animation-whats-your-story
Advanced: Adobe Character Animator CC
We know that for some of you, beginner tutorials and free programs, no matter how good, are still not enough. That is why we will finally present you with the currently most popular software for character animation: Adobe Character Animator CC. This advanced program is surely the most technologically advanced 2D rigging software available that does not have a very high learning curve. You will be able to create beautiful animations after just a little bit of practice! Of course, in order to achieve the best possible results, you will need a lot more practice, so, in case you are in a hurry, you can Contact Us – we are able to do any rigging work you might need, exclusively for you!
Here is a great tutorial with some very useful tips that will help you achieve some amazing 2D Animation for your characters. We picked this one as it is both beginner friendly and advanced at the same time.
Although DUIK, that we described in the beginning of this article, definitely is the best free rigging program, Adobe Character Animator CC takes this to a whole new level, for a small fee. If you are interested in this software, make sure to visit the official Adobe website for more information on how you can obtain a copy of Adobe Character Animator CC!
We believe you are completely ready now! At last, you have all you need in order to edit some great 2D animations and use them for all kinds of your different projects. Begin your 2D animating adventure today, and once you are satisfied with your 2D Animation Skills, and you get intrigued by 3D animation too, you can visit our website's Animated Video Production page for more information!
Happy animating!